Optical Dispensary and Laboratory
Optical Dispensary
Union City Eye Care has a modern optical dispensary and maintains current and up to date stock of over 700 men's, women's, and children's frames that range in price from budget to luxury. Some of the brands that you will find include Flexon,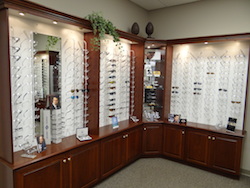 Lacoste, Crocs, Swarovski, Nike, Joseph Abboud,  Fossil, Guess, Harley Davidson, Oakley,  Skechers, Gant, Nine West, Kate Spade, Juicy Couture, Fysh, Kliik, Anne Klein, Bebe, Candies, Catherine Deneuve, Jimmy Crystal, Elle, Esprit, Charmant Line Art, Rampage, Carrera, and Silhouette. We also carry prescription and non-prescription sunwear, including Oakley and Costa del Mar.
Visioffice
Visioffice is an innovative, state-of-the-art eyeglass lens measurement system that uses 3-D images of patients' eyes to provide more accurate, personalized eyeglass lenses made specifically and uniquely for them. Since "no two eyes are the exact same–similar to our hands and feet", the Visioffice measures the exact location of each eye individually and even analyzes the patients' visual behavior– whether they tend to move their head or eyes more.
In addition to 3-D measurements, the Visioffice System also helps patients select frames and learn about the features and benefits of various lens designs, materials, and lens treatments.
For example, a patients' eyeglass prescription can be entered and the Visioffice will show the exact thickness and weight of the lenses in different lens materials, allowing the patient to see how their lenses will look.
Optical Laboratory
Union City Eye Care has a fully functional optical laboratory with state-of-the- art Santinelli equipment allowing our optician to fabricate many of our patient's glasses on-site, thus reducing waiting time. Also, our trained opticians are extremely proficient in repairing frames and adjusting frames for a perfect fit.